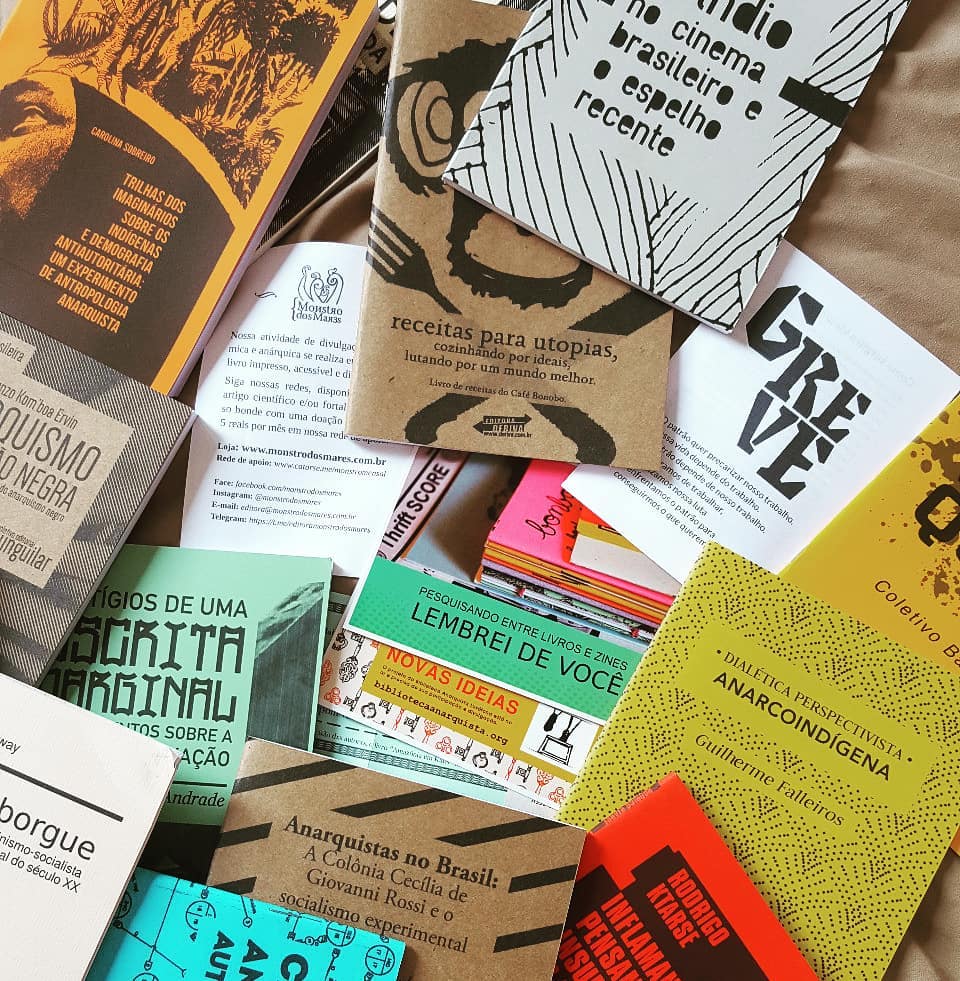 In October 2020, the publisher Monstro dos Mares, a small anarchic-inspired editorial collective situated in the countryside of the state of Paraná hit the mark of half a million prints. This number is meaningless to the national graphic industry, but it's very significant to the people, collectives, social movements, communal libraries and editorial initiatives of handmade books and zines in Brazil.
Printing from home, with the aim of distributing and strengthening the dissemination of radical ideas, the collective brings together a spectrum of experiences that highlight the importance of autonomy and free cooperation between people and collectives who share the same principles and ethics. When producing a new title, or retrieving and circulating an issue from the old times, we learn a lot about technological appropriation, the need for ink on paper. We also realize the urgency of developing survival strategies and maintenance of our collective spaces, which many times benefit directly from the distribution, sales and circulation of printed material. In addition, obviously, we learned about contributing to the learning process and the mobilization of the people who, like us, are united in social struggles alongside those from below.
In this remarkable moment for the us, we want to thank the folx, bros and gals who, at any moment of their lives and activism, chose to dedicate some time to produce materials that question the State and the state of things. These are books and zines that subvert the established logic, academical researches that expose the faulty lines of normality and reports from groups and individuals who, outside the walls of the universities, create materials to go from hand to hand; homemade and low-cost, such materials will circulate among people (such as you and me) who fight so that the world, in its current form, doesn't deserve to exist for not even a second further.
In 2020, since the first day of the year, Monstro dos Mares came out of deep water the to make way for new publishers, publishing collectives, distros and small bookstalls to emerge. When those initiatives dawn over the horizon, our feelings to create, retrieve, mobilize and diffuse radical and dissident thinking in printed form is a direct action of dealing with big capital, the constant authoritarian law, labor deterioration and environmental destruction. This isn't a task closed in on itself, but one that is merged with open arms within the struggle. All this while trying not to ignore the subjectivities that constitute ourselves as entities and which unites us as collectivities. When a new anarchist publisher emerges, we breathe in new air and blow the sails.
The 500.000 prints we've reached since August 2017 represent more than 50 boxes of paper, 500 A4 paper packages, 15 liters of pigmented ink, more than 5.000 books and 9.000 zines. The half a million print means that there's still space, sailable seas and an ocean of lemonade for radical thinking. Beyond celebrating these numbers, we want to thank every single person who kindly encourages us to continue doing what we believe in. Books and Anarchy!
Publisher Monstro dos Mares
October 2020